Levente Losonczy started his season in the TCR Italy series at the legendary Imola circuit, where the Formula 1 field will soon be competing. The Hyundai Elantra N TCR driver of Aggressive Team Italia took his first podium finish of his TCR career after starting from the front row for the first time. 
Aggressive Team Italia's Levente Losonczy started the season in one of Europe's most prestigious touring car championships, the TCR Italy. The season-opener was held at the Imola circuit, which also hosts and F1 Grand Prix. After two free practice sessions on Friday, the qualifying session and two 30-minute races awaited the Győr-based athlete.
Friday's Free Practice sessions showed that Levente's pace would give him a chance to finish in the top 10 in qualifying but this required good strategy as the 33-strong field made it easy to get caught in traffic and he had to be wary of both yellow and red flags.
However, Levente still achieved his goal, setting the 7th fastest lap (2nd fastest among the Hyundai drivers), so he could be on the fourth row for Race 1 on Saturday afternoon, and according to the rules, he claimed 2nd on the grid for Sunday's reverse grid Race 2.
The season-opening race on Saturday afternoon saw great battles: Levente started well, immediately attacking the opponents ahead of him but the narrow track did not leave him enough room so he could not overtake. Later on, there were lot of battles and skirmishes, he had to fight continuously and finished 11th, again as the second Hyundai driver.
On Sunday, the field was greeted by perfect weather, typical of the whole weekend. Levente took his grid spot on the front row for the first time in his TCR career. He had a good start and managed to overtook pole sitter Paolo Rocca. Further back, one of the drivers spun out and hit the wall, calling the Safety Car in.
Levente caught the restart well but he was unable to defend against Franco Girolami's blisteringly fast Audi on the straight and dropped back to second. Soon after another Safety Car phase followed after which he managed to repel Paolo Rocca's attacks and built up a small lead over his rival who was holding up the pack.
Nine minutes before the half-hour time limit, the order changed again: Rocca was overtaken by Marco Butti who had won the Race 1 and chased the Hungarian driver, whom he passed with 4 minutes to go. Levente still managed to take third, crossing the line just ahead of Audi's Felice Jelmini to claim his first podium finish in TCR.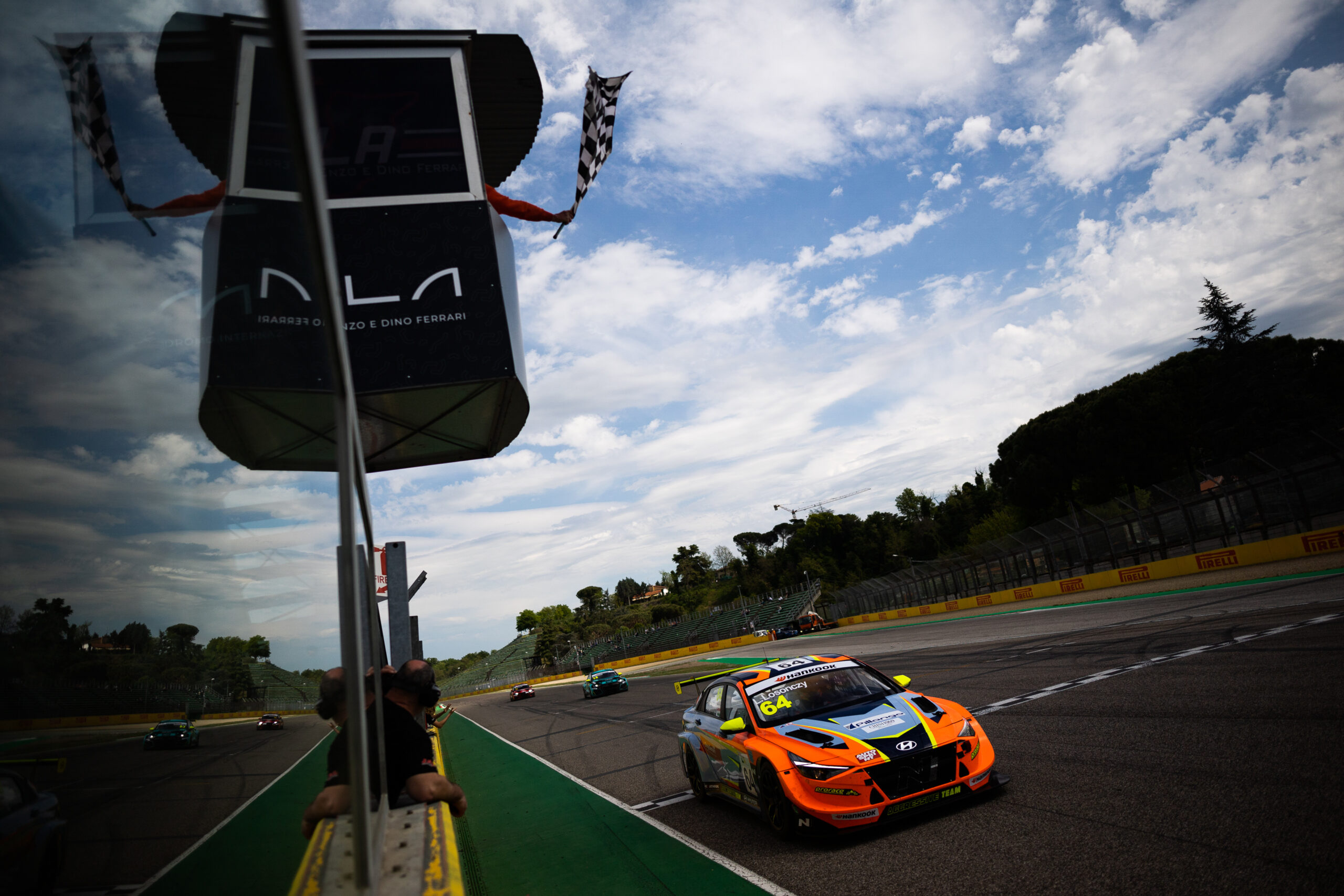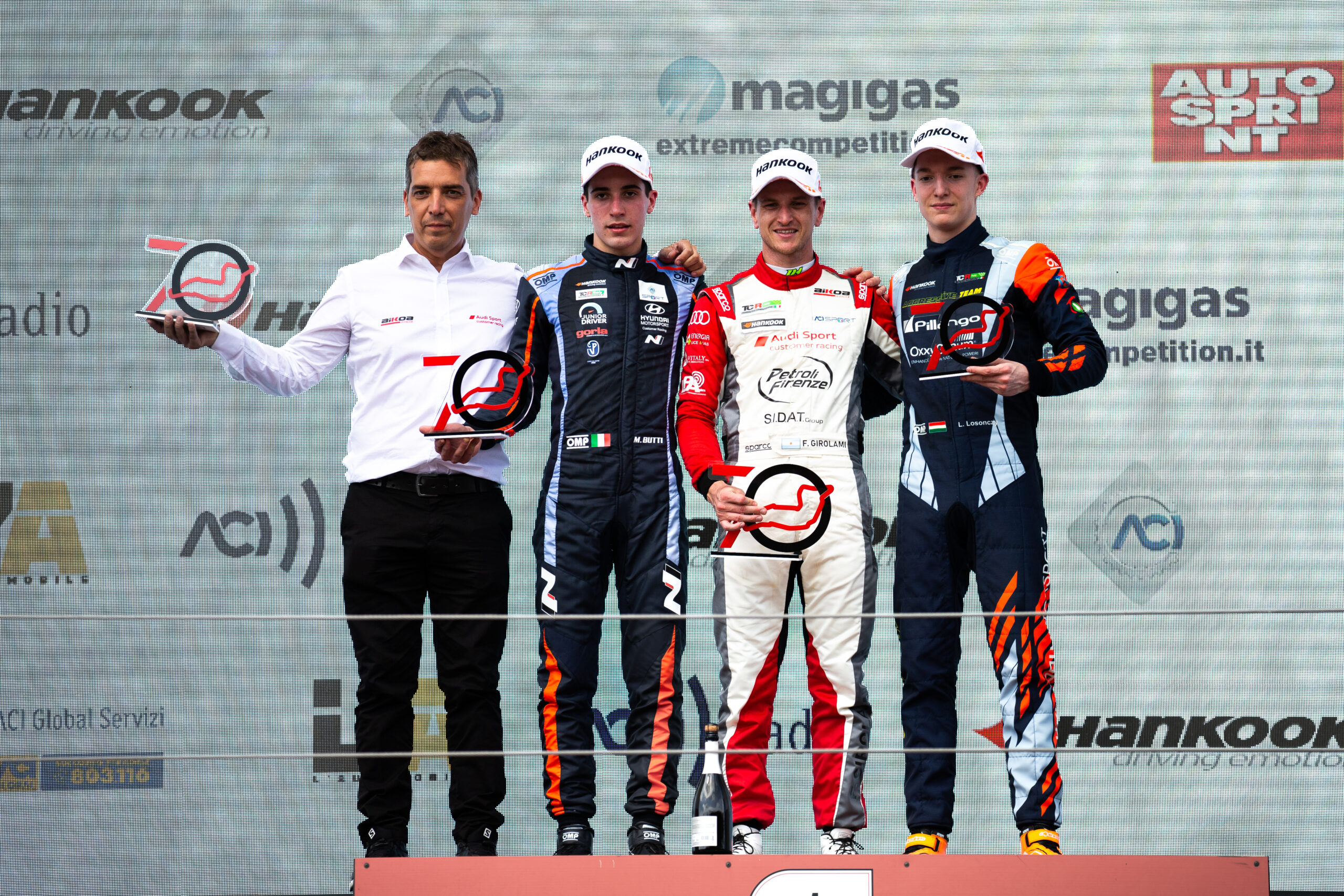 'It felt really good to take the lead at the start and I could see that I was much faster than my opponent who started from pole position, so I was relaxed after Lap 1. At the end of the Safety Car phase, I saw that there was an Audi behind me that was very fast on the straight, there was not much point in trying to keep it behind but I stayed with him and tried to keep up with his pace,' said the Aggressive Team Italia driver. 
'We created some gap ahead of the guys behind us and learning from Saturday's race, I paid more attention to tyre management and was able to do consistent laps, which helped me to eventually finish 3rd. Thanks to my team, Pepe Oriola and Fit4Race for their work, to my father and sponsors without whom I wouldn't be able to race and Bálint Hatvani for helping me a lot with my racing and improving my mindset. It feels great to be on the podium again, I hope to do it again next time in Misano!'
Based on the results of the weekend, Levente Losonczy scored 48 points which puts him in 4th place overall in the TCR Italy series classification before the next round of the championship which will be held at Misano Circuit in Italy between 5-7 May 2023.