Martin Molnár finished second in this year's season opener of the prestigious WSK series Champions Cup. The Energy Corse kart driver finished in the top three in all his races at the event in Lonato, Italy.
Martin Molnár started this year's World Series of Karting (WSK) season where he finished the Winter Cup a week earlier, and was among the front runners from the start of the weekend, also in Lonato, Italy. In other words, the 14-year-old Hungarian driver for Energy Corse was fighting for victory in one of karting's strongest championships, finishing in the top three in all the heats, and in the prefinal and final, finishing second in both of the latter two.
The HUMDA-backed driver had a chance to take pole position in Friday's qualifying, but was held up by an opponent on the best lap, finishing second in his group and fourth overall. He then won his first qualifying session from second place and finished in the top three in the two qualifying sessions on Saturday, first third and then second with the fastest lap, to start Sunday's race from third overall.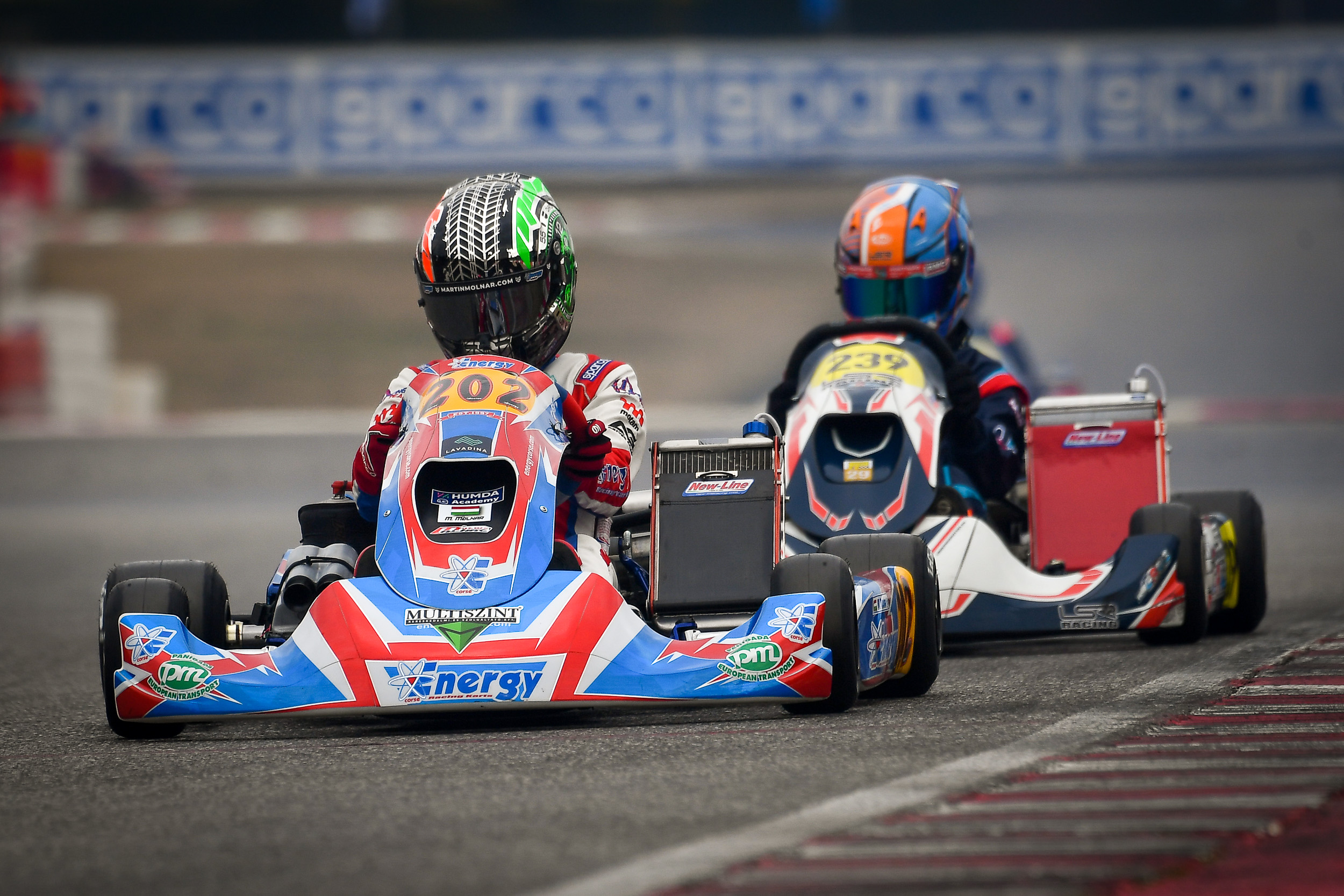 In the prefinal he lost several positions at the start and slipped back to sixth, but as his pace was not a problem this time, he made four overtakes to finish second, behind Dmitry Matveev.
He started the final from third position, but again dropped back, although this time he was able to move up from sixth to fourth.
On the fourth lap, he was closing in on his second-placed teammate Tomass Stolcermanis, and managed to sneak up on the Latvian in the final corner, only to find himself in the lead as Matveev, who was in first place, was eliminated.
Martin then led the final for several laps, but David Walther, who was ahead of Stolcermanis, kept up with him and eventually managed to pass the Hungarian Energy Corse driver. The race remained close until the last lap, with Martin trying to keep up with his Danish rival and, although he could not overtake him, he finished within a second of him. A further 1.5 seconds behind him, Stolcermanis finished third. The closeness of the race is shown by the fact that David Walter's fastest lap was 46.867, while Martin's was 46.869, a difference of 2 milliseconds between their best laps! So Energy Corse celebrated a double podium and Martin waved from the podium for the first time in the WSK.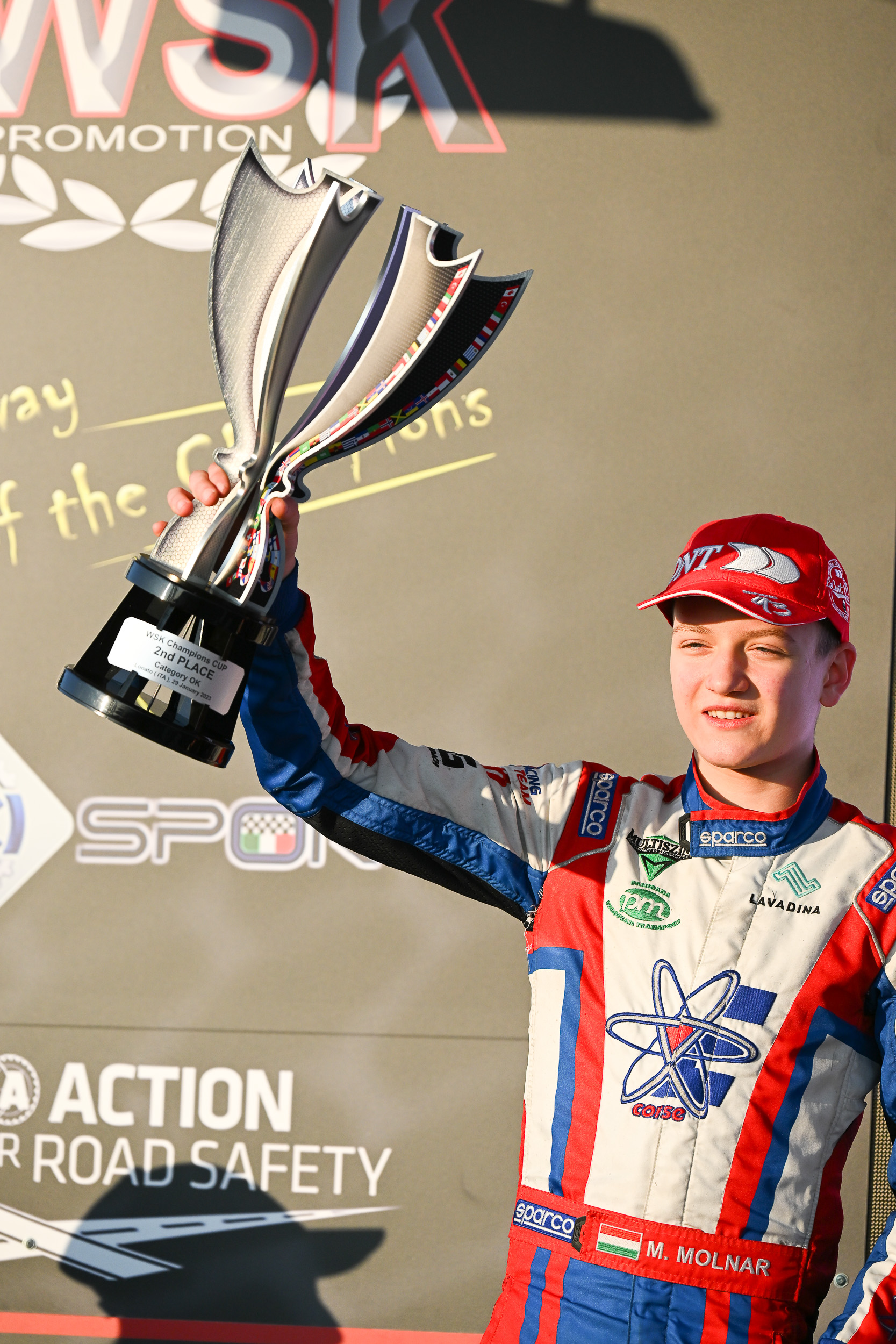 "We had a very good weekend. In the semi-final it helped the winner to have four new tyres on his kart and only two on mine, but for the final I was able to put four new tyres on. I started from third place, but the runner-up started very well, so I couldn't overtake him and dropped back to fourth. From there, I climbed up to second place when the leader's engine stalled, so I took the lead," said the 14-year-old.
"I thought I could have won the race, but my rival behind me had a bit better pace and he took advantage of it, so I ended up second ahead of my teammate. Of course I would have preferred first place, but even though I didn't win, I'm not sad at all, because a podium finish in the WSK is a good result. I don't have any shortcomings because I did my best and gave my best. Now we have someone who was faster, but hopefully we will be the fastest next week. I have to thank my parents, Energy Corse, HUMDA, MOTAM, my coach Atonio Galluccio and my mechanic Andrea Terron for all the work and support over the weekend."
Martin will next race in the first weekend of February, the first round of the WSK Super Master Series, again in Lonato.
Martin Molnár, OK results
Participants: 42
Qualifying group: 2
Qualifying total: 4
C-D heat: 2nd -> 1st
B-D heat: 2nd -> 3rd.
A-D heat: 2nd -> 2nd.
Heats overall: 3.
Prefinal: 2nd -> 2nd
Prefinal overall: 3.
Final: 3rd -> 2nd.