It was bad luck for Martin Molnár in the first round of the WSK Super Master Series, but the Energy Corse driver still managed to finish in the top ten, and he didn't just find the positivity in his position.
Martin Molnár was looking forward to the first race of the two-round WSK Super Master Series having finished in the top three in both of his previous race weekends this year, most recently finishing second in the Champions Cup, also part of the prestigious WSK series.
He came into the Lonato event as the world leader in the OK category and again made it all the way to the final, where he finished in 9th place.
In Friday's qualifying session, the Energy Corse driver finished 8th in his group and 15th overall after being held up on what was expected to be his fastest lap. He was then placed in Group C, which meant that he had to start from the back of the grid twice of the three heats at Lonato.
As expected, he lost positions at the start on both occasions, but then managed to claw his way back and improved his position in all three heats. In the first race, he did this by being literally knocked over by a rival, which sent him flying, dropping him well outside the top ten, but he came back up from there to finish sixth.
In the prefinal, however, it didn't work out.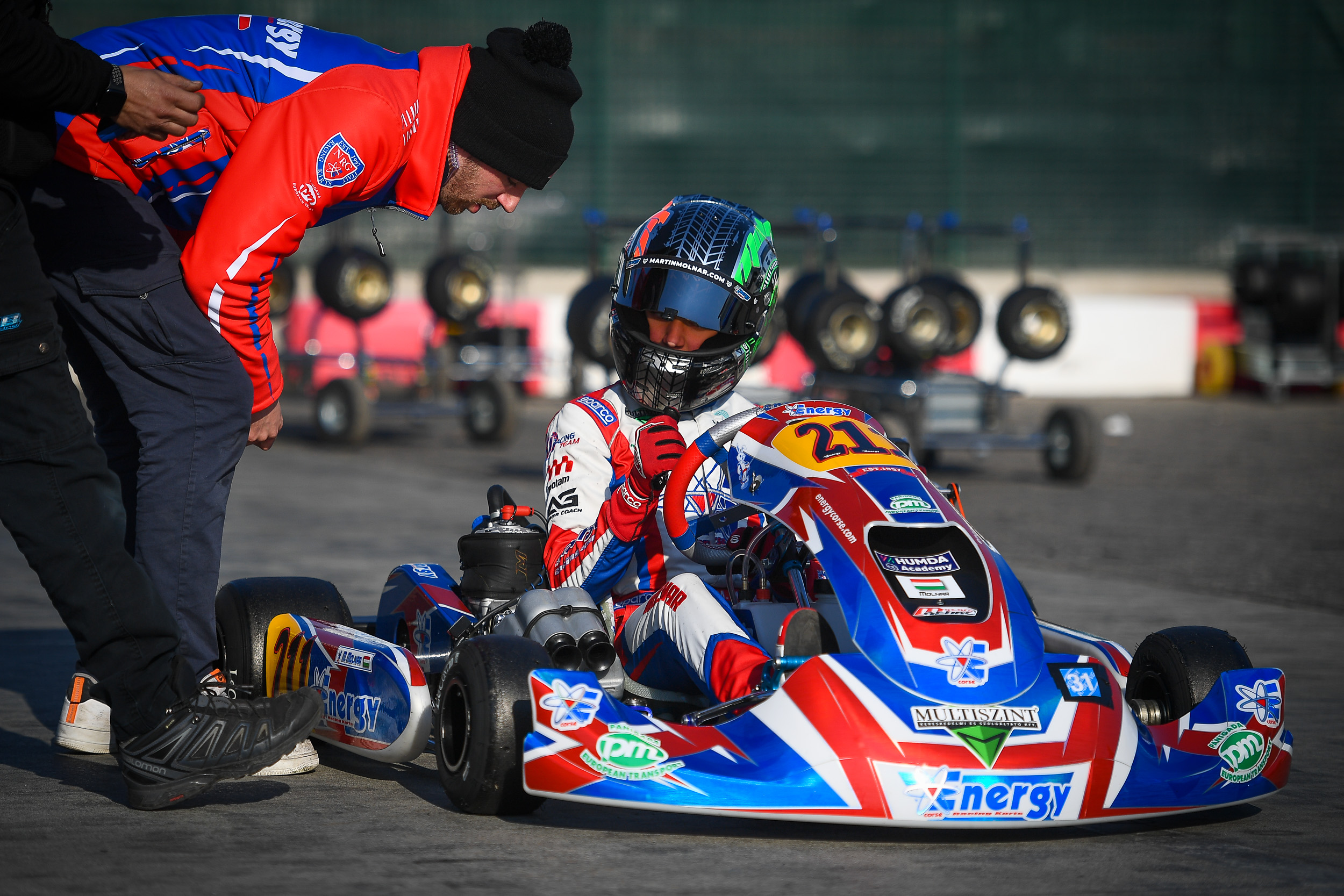 "On the lead-up my bumper fell in because the driver in front of me was warming up his tyres and I had to brake to avoid hitting him, but the rider behind me pushed me. I knew then that I was going to get a penalty, but that wasn't my main concern during the race. As I started from the doubles' side, I also fell back at the start and finished seventh, but thanks to the penalty I was only ranked eleventh" – summarised the HUMDA-supported athlete.
He started the final from tenth place, but his line got stuck again and he fall back and then he had to catch up. He was eventually beckoned down in tenth place, but benefiting from a penalty from one of his rivals, he gained one position to finish the first round of the WSK Super Master Series in 9th place.
"We didn't have any luck this weekend, but we can't be on the podium every weekend, just as luck can't be on our side every weekend. I am happy to finish in the top ten because it is a good result, especially in such a strong field. I am happy with my performance and with the team, I feel supported and the atmosphere is good. We are looking ahead to the next race and working on coming back stronger. Thanks for the weekend to Energy Corse Racing Karts, my coach Antonio Galluccio, my mechanic Andrea Terron, and HUMDA Hungarian Motorsport and Green Mobility Development Agency Zrt. and thanks to Machac Motors for the excellent prepared TM engine."
Martin Molnár will next compete in the second round of the WSK Super Master Series in Franciacorta from 17-19 February.
Martin Molnár, OK results
Participants: 52
Qualifying group: 8
Qualifying total: 15
C-D heat: 7. -> 6.
A-C heat: 8. -> 5.
B-C heat: 8. -> 4.
Heats overall: 8.
Prefinal: 4. -> 11.
Prefinal overall: 10.
Final: 10. -> 9.