Molnár Martin had to get used to a new track and new tires at the first round of the Champions of the Future Euro Series in Valencia. The 14-year-old Energy Corse kart driver gained useful experiences before the European Championship, whose opening race will be held on the same track.
Molnár Martin traveled to the Kartodromo Internacional Lucas Guerrero race track in Valencia with no previous experience racing on this track. Additionally, he had no experience with the tires used in the Champions of the Future Euro Series, while many of his rivals had tested on the track the week before.
The 14-year-old athlete waited the race weekend from the top of the world ranking list in OK category. He he achieved 9th place in his group and 27th place overall in the qualifying sessions.
He was able to improve his starting position in the first two heats, moving from 9th to 7th and then from 9th to 6th position. However, it didn't work out in the remaining heats, as he was involved in a crash in the third heat, and although he made up 15th place after the crash, it took a lot out of his tyres for the fourth and fifth races.
In the Super Heats, which were held on Sunday, he finished in 18th place but fell back to the 23rd place after a 5-second penalty and missing the finals by seven positions.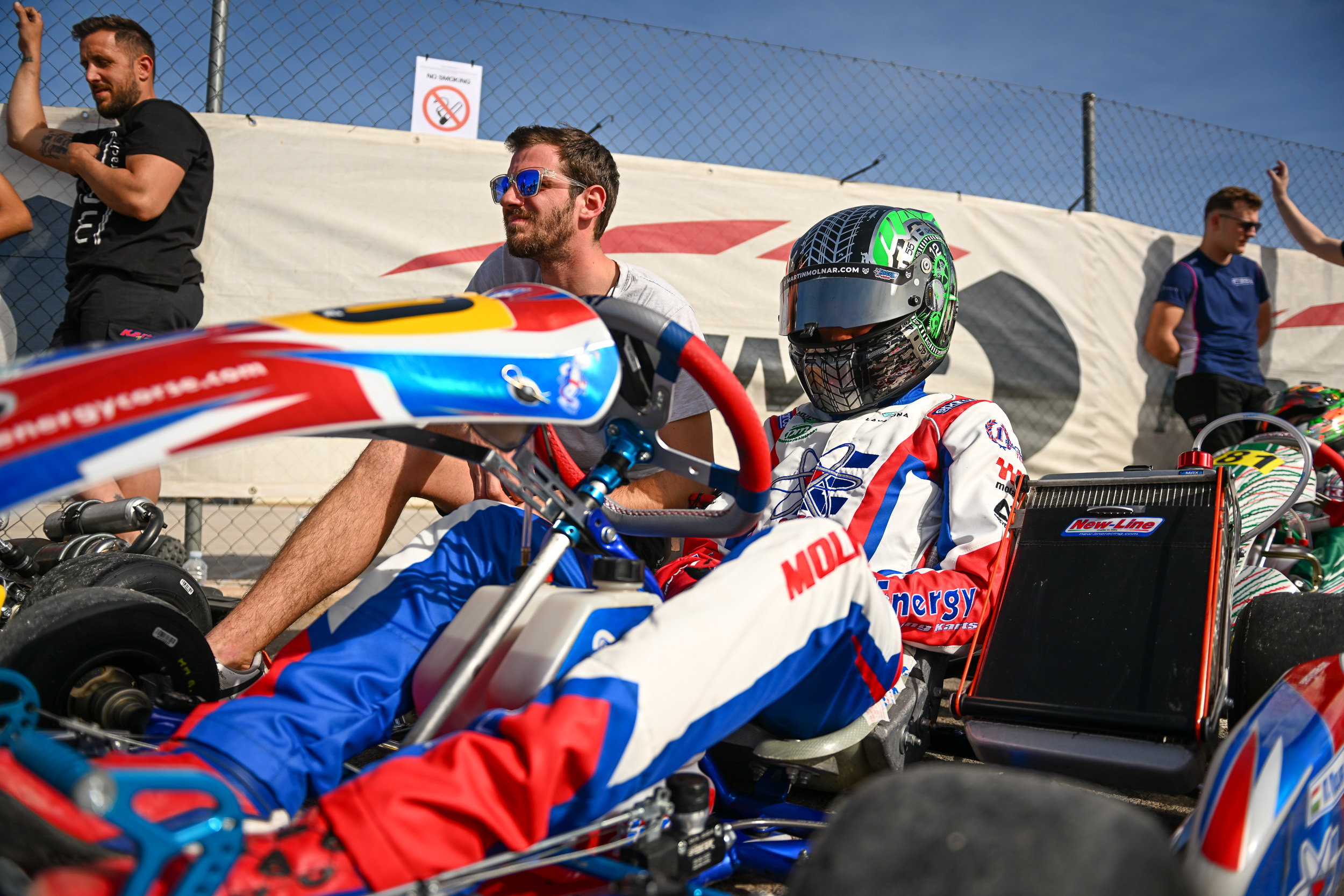 "The weekend started with exciting heats on Friday, but the rest of the weekend did not go very well," said the HUMDA supported athlete. – "I did not have the pace on either day, I lost positions continuously in several heats, and I was involved in an accident once. I still made it to the Super Heat, where I tried everything again, but this time I didn't make it to the Final, and I also received a 5-second penalty."
"The positive thing about the weekend is that we gained a lot of experience for the European Championship race, since I could start knowing the track and the tires. Therefore, from the first day, we can concentrate on the setup, and we won't waste time on learning the track in the early part of the weekend. I am sure that our pace and tire management will be better."
"I would like to thank the Energy Corse team for the excellent kart, Machac Motors for the well-prepared engine, and my partners, family, MOTAM, HUMDA Academy, my coach Antonio Galluccio, and my mechanic Andrea Terron for their support."
Molnár Martin will be on the track again between March 24 and 26, this time in the first round of the European Championship in Valencia.
Martin Molnár, OK-results
Participants: 76
Qualifying group: P9
Qualifying overall: P27
C-D Heat: P9 -> P7
C-F Heat: P9 -> P6
C-E Heat: P9 -> P15
A-C Heat: P10 -> P22
B-C Heat: P10 -> P18

Heats overall: P37
Super Heat: P19 -> P23
Super Heats overall: P42
Final: –